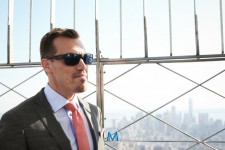 BRISBANE, Australia, November 9, 2017 (Newswire.com) - Isabella Afable of Warrior Forum helps source and create content for new and aspiring Internet marketers and recently published the Top 20 Facebook Marketers You Need to Follow in 2018. On the list of dominating Internet marketers was Ben Simkin, CEO of BusinessNET, who to date has generated an outstanding $1.45 billion+ by using Facebook.
The list of 20 included names such as Amy Porterfield, Jeff Bullas and Mari Smith, all of which are exceptional marketers in their own right.
Some of Ben Simkin's specific achievements have included:
Growing Canterbury Property Services from $30 million per year to $115 million per year, in just 12 months;
In less than 12 months, turned Financial Advisors Australia (FAA) from a loss to $10 million in sales;
In just 30 days, the Famore Group received 300 qualified leads.
Ben Simkin has been an early adopter of Facebook advertising and his success has continued to thrive with the growing platform. To learn more about Ben Simkin and his work, visit www.businessnet.com.au or follow him on Facebook at www.facebook.com/BenjaminSimkin.
Source: BusinessNET
Share: