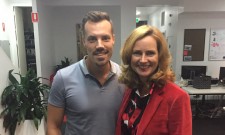 BRISBANE, Australia, September 3, 2017 (Newswire.com) - ​​Founder of the Number 1 Facebook Advertising firm in the Southern Hemisphere, Ben Simkin of BusinessNET, shared his genius with the Naomi Simson community on Making Facebook Ads Work For Your Business.
In a Facebook Live the pair did together they discussed a range of queries including:
Why Facebook rather than other media platforms?
How to predict and target customers as a powerful measure B2C and B2B
Facebook data points and how you can utilise them to gain customers
How to source quality candidates for your business using Facebook
Quality of creative and the importance of testing your ads
The possibility on getting an ROI when you're spending small amounts such as $30-$50
How to turn your social interaction – likes, comments and engagement – into sales… do you have a call to action?
What and how often you should be posting – quality over quantity…
The best way to grow your following
Number of fans does not necessarily = sales
How to measure success with paid marketing and manage the budget creep
How to keep up with the constant algorithm changes
When you're just starting out, how to create consistency and flow in your business?
In the informative Facebook Live all viewers had their questions answered and went away knowing that Facebook Advertising should be a priority in their marketing strategy.
For those serious about growing their business, Naomi Simson has put together a Resource Kit that she shares "will teach you how to get more leads, build brand awareness and make more sales. It is a fantastic starting point for those who've never used Facebook Ads before or for those who may have begun with Facebook Ads but haven't had much traction".
The Resource Kit will teach business owners a range of tangible business advice from choosing an niche, buyer personas, setting up Facebook Ads, using advanced Facebook Ad features and how to budget to maximise ROI – visit https://naomisimson.com/offer to get your copy.
Ms. Simson has also released her very own course Building Your Business Brand where she walks businesses through the exact strategies she used, and continue to use, to build the RedBalloon brand into a household name delivering experiences to more than 3.5 million customers.
Be sure to watch the informative Facebook Live video of Ben Simkin and Naomi Simson, two of Australia's most innovative business entrepreneurs. To connect with Ben, visit www.facebook.com/benjaminsimkin, and connect with Naomi at www.facebook.com/naomi.simson.
Source: Naomi Simson
Share: