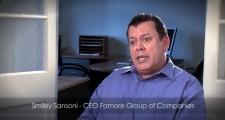 BRISBANE, Australia, September 15, 2017 (Newswire.com) - Global experts in lead generation, BusinessNET, who to date have generated over $1.45 billion in sales, shared one of their many success stories, in this case with the Famore Group delivering 300 leads in just 30 days.
The Famore Group are an installation company based in Queensland, Australia, and because of the operations of their business they require a base number of jobs to keep their employees busy and the lights on in their business.
The installation company had tried other marketing strategies, but their efforts weren't yielding the results they required. After meeting with BusinessNET, the Famore Group were presented with their proven strategies for developing quality enquiries and then had a specific program designed just for them.
Through the execution of their tailored strategy, the Famore Group received 300 quality leads in 30 days. This impressive result instantly saw the Famore Group hitting their goal of keeping their installers fully booked.
A case study video with the Famore Group is available here.
To learn how BusinessNET can generate more enquiries, customers and sales for your business with their proven marketing strategies, contact them to organise a Free Consultation by visiting www.businessnet.com.au.
Source: BusinessNET
Share: