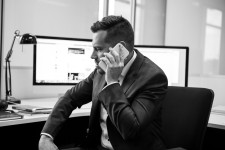 Facebook Marketing Expert Who Cracks The Facebook Code And Generates Over $1.45 Billion, Shares His Techniques
Brisbane, Australia, February 8, 2017 (Newswire.com) - ​​Ben Simkin, Facebook advertising expert and CEO of BusinessNET, recently spoke to AJ Mihrzad at the Huffington Post about his methods, insights, and insider knowledge about getting businesses noticed through Facebook Ads.
In the in-depth interview, Simkin explains his motivation behind getting started with Facebook Ads, and how he managed to build his expertise to the point at which he could generate more than $1 billion in sales for his clients.
"When Facebook announced their new advertising platform I realised straight away that this had potential to be huge, so I jumped right in without hesitation," he told Mihrzad.
Although his initial forays resulted in mixed success, Simkin understood from the start that he could be onto something uniquely profitable.
"I essentially just said this to myself: 'if I can crack this code, it will be worth millions of dollars'. That's what kept me going as I knew it would happen eventually."
Having used Facebook to sell everything from recipe books and yoga retreats to business consulting and investments, Simkin is well-positioned to provide advice on using the platform.
"Products and services [that BusinessNET has sold using Facebook] have ranged from a mere $27 all the way up to $500,000, with Facebook ads working well across the board," he told Mihrzad, before going on to explain how to best approach creating your first ad.
"Before you even think about sitting down to create a Facebook ad, you need to have this image instilled in your head in a three-dimensional way.
By this, I mean you need to know their age, gender and location. But you also need to know everything from what they like reading to where they like to hang out on the weekend.
What keeps them up at night? What would they think about your product?
Getting this three-dimensional concept of your target audience is the crucial first step."
This engaging interview provides a great opportunity to learn from one of the best in the business, with Simkin going into detail on his advice for those just taking their first Facebook advertising steps, how to evolve as the platform changes, and how best to harness its potential.
There's no-one in the industry more qualified to provide advice on getting started with Facebook advertising, and Ben Simkin is a great resource for businesses looking to implement new ad strategies. Keep up to date with Ben and his work – including podcasts, articles, and personal mastermind events – by following his Facebook page: https://www.facebook.com/benjaminsimkin.
Source: BusinessNET
Share: