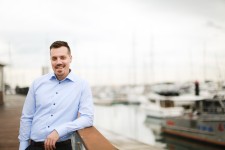 Facebook expert Ben Simkin recently spent time with Inc.com's Molly Reynolds to explain some of his top Facebook advertising strategies for efficient marketing.
Brisbane, Australia, October 30, 2016 (Newswire.com) - Founder of BusinessNET Shares 5 Steps For Generating $1 Billion In Sales From Targeted Facebook Advertising
Ben Simkin, Facebook advertising expert and founder of lead generation company BusinessNET, is renowned for using his online marketing expertise to generate over $1.45 billion in sales. Recently he spent time with Inc.com's Molly Reynolds to explain some of his top Facebook advertising strategies for efficient marketing.
Simkin has used Facebook Ads to sell over $1 billion worth of products and services. In one case study, he grew Canterbury Property's already impressive revenue ($30 million) by 210 per cent in the first year – little wonder that Reynolds refers to him as a "Facebook Advertising wizard".
Reynolds' article, titled '5 Steps to Generating More Than $1 Billion in Sales Through Facebook Advertising', encourages entrepreneurs to narrow down their customer profile in order to see the best results from Facebook advertising. "By its very nature, Facebook allows you to be very targeted when serving ads," Simkins told Reynolds. "This ensures that your pay-per-click dollars are at their most efficient."
The article discusses his top five strategies for maximising entrepreneurs' advertising returns, with Simkins encouraging business owners to:
Understand target demographic – know your ideal customer: their lifestyle, values, beliefs, priorities, what they love, what they hate and especially what their big issues are right now.
Focus on the big issue – your marketing should demonstrate that it can provide a solution to that big problem.
Build confidence in your audience – share relevant success stories from relatable customers to build confidence in your consumer base.
Focus on scaling, not saving – if your advertising price creeps up, but you're still seeing profits, don't be tempted to cut back on spending. Focus on volume, not trying to save money.
Keep your finger on the pulse – as Facebook advertising is a constantly evolving platform, you need to stay on top of your campaigns by checking the numbers and adjusting accordingly.
Once again, Ben Simkin has demonstrated his particular brand of online marketing genius with these five easy-to-implement steps. He regularly shares his knowledge online, through outlets including podcasts, high-profile articles and his personal mastermind events. To remain up to date with his innovative work, follow Ben on his active Facebook page https://www.facebook.com/benjaminsimkin.
The full article on "5 Steps to Generating More Than $1 Billion in Sales Through Facebook Advertising" can be read here: http://www.inc.com/molly-reynolds/5-steps-to-generating-over-1-billion-in-sales-through-facebook-advertising.html
Source: BusinessNET
Share: