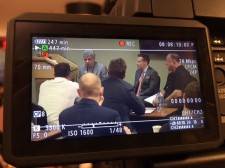 BRISBANE, Australia, September 15, 2017 (Newswire.com) - As we all know, video content is winning the popularity stakes across all platforms and Ben Simkin, founder of The Mastermind and BusinessNET is an advocate of video content. This was proven at his Mastermind event in New York City was filmed by a local company, Serious Take Productions, who highlighted four reasons every entrepreneur needs to film their Mastermind.
The first point they made was that video content allows for '360 degrees of emotions captured'. As entrepreneurs are unique, and often lonely, they can feel at home in a Mastermind as they come together with other like-minded people. The energy 360 degrees of video captures comes across even stronger, hence more reason for people to adopt video.
The second point, 'power your videos with success stories', is a feature Simkin has been using for quite some time, gathering success stories and testimonials to help spread his message further. Owner of Serious Take Productions, Danielle Gomez shares, "74 percent of all internet traffic this year is video and video ads have an average click-through rate (CTR) of 1.84 percent, the highest click-through rate of all digital ad formats" – an adamant to the power of video content.
Being able to have a 'mini-movie' was the third supporting reason – the film crew at Serious Take Productions followed the Mastermind group, capturing all aspects of their itinerary. This footage was then turned into a 15-minute mini-movie that can be used for months and years to come.
The fourth and final point as shared by Danielle Gomez and Serious Take Productions was, 'profit from your recordings'. Making profit doesn't end at the event, you can then go on to sell the video content to attendees and to those who couldn't attend.
To learn more about Serious Take Productions, visit www.serioustakeproductions.com or email Danielle@serioustakeproductions.com and to learn more about Ben Simkin and his supportive network of high calibre leaders visit www.themastermind.com.au.
Source: Serious Take Productions
Share: