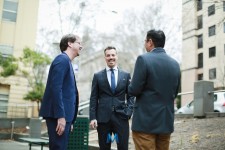 BRISBANE, Australia, October 27, 2017 (Newswire.com) - ​The introduction of the social media platform Facebook brought a distinctive change to the way businesses market themselves. To most, it's no secret that Facebook is a powerful platform for marketing a business. Ben Simkin, founder of the number 1 Facebook Marketing Firm in the Southern Hemisphere (BusinessNET), shared in INC Magazine how he has managed to generate over $1.45 billion through Facebook.
In the article titled, '5 Entrepreneurs Used This Platform to Make Million-Dollar Businesses', Ben Simkin touched on his notable area of expertise, Facebook Ads. "When done correctly, Facebook advertising is one of the most powerful platforms for paid traffic," shared Simkin.
Through his work, Simkin has always emphasised knowing your audience. He stated, "You have to keep testing until you have found the right audience, ad creative and landing page that has optimal conversions".
​Simkin shares that businesses should "start by testing with a small amount under $1,000 per month to test a few campaigns and begin to understand how the platform works. Use this time to experiment, try out different landing pages and ad copy".
As the World's Leading Facebook Marketer, Ben Simkin suggests to "narrow your target group for an ad to less than 10,000 people. When you do this, you will be able to make sure that your ad is targeted narrowly enough to make an impact. It may take a while to find the perfect combination, but once you do, increase your budget and focus on that campaign until you can scale".
Learn more about Ben Simkin and his work by following him on his active Facebook page: www.facebook.com/BenjaminSimkin, or learn more about his company by visiting www.BusinessNET.com.au.
Source: BusinessNET
Share: