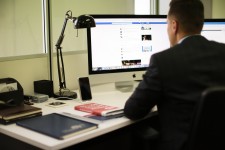 Facebook marketing extraordinaire Ben Simkin, discusses in Huffington Post how understanding Facebook Ads is the top skill entrepreneurs need to know online. As a lead generation expert using Facebook Ads, Ben Simkin has generated $1.45 Billion using this untapped marketing tool to strategically deliver qualified leads.
Ben Simkin, lead generation expert and Facebook marketing extraordinaire, is responsible for generating $1.45 billion in sales for himself and his clients through his company BusinessNET. Simkin's success has been the result of adopting Facebook Ads to strategically deliver qualified leads. Simkin acknowledges Facebook Advertising as one of the top skills entrepreneurs need to know online, he discussed the benefits with Richard Lorenzen in his column for Huffington Post.
In the article (http://www.huffingtonpost.com/richard-lorenzen/seven-marketing-skills-al_b_9576568.html) Lorenzen recognises there are many different tools and resources available for business owners, in which he narrows it down to seven key skills, the first being Facebook Advertising. Facebook as we know is widely used worldwide for business and personal use, however "very few organisations are actually using Facebook to their advantage", explains Lorenzen.
"Facebook advertising is a great way to reach both current and potential customers. It can be a budget-friendly solution where you only pay for customers who click on your ads. When executed properly, Facebook ads have proven to be some of the most effective solutions available for entrepreneurs looking to garner new interest for their company", tells Lorenzen.
The potential Facebook has for businesses are huge, but often many people get lost in Facebook ads and conclude that it isn't right for their business. Ben Simkin encourages when testing out an ad campaign on Facebook it is imperative to split test – "Split testing is very important and KPIs can vary from industry to industry. For most ads we will know within 150 clicks how we are tracking and know how to act accordingly, whether we adjust the ads, landing page or offer. For other industries, we've run ads for over 350 clicks each before determining split test winners."
It is a recurring pain-point for business owners in their lack of understanding on how Facebook Ads can drive leads and customers. Simkin's company BusinsessNET has been credited to being the number one Facebook marketing firm in the southern hemisphere, resulting from their consistent ability to deliver the highest profit and sales. Ben Simkin and BusinessNET's success which resulted in generating over $1 billion is a prime example of the tangible benefits Facebook Advertising can deliver.
Ben Simkin regularly shares his knowledge and insights through a variety of outlets including podcasts, highly publicised articles and his personal mastermind events. Follow Ben on his active Facebook page https://www.facebook.com/benjaminsimkin, to remain up-to-date with his innovative work.
Share: