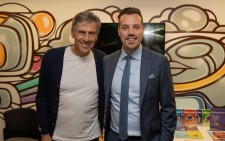 BRISBANE, Australia, November 26, 2018 (Newswire.com) - Founder of Number 1 Facebook Advertising Firm in Australia, Ben Simkin of BusinessNET dives in an interview together with entrepreneur and Shark Tank's Judge, Andrew Banks to reveal a wealth of tips and secrets to success every business owner should know.
Andrew started his first business in 1984 where he co-founded Morgan & Banks with Geoff Morgan. He said that Morgan & Banks happened due to his realization in the past, "Rather than stick on working for other companies who are probably finding it hard to change, go out on your own!"
Banks has always been a great believer that sales with integrity do amazing things. "You have to believe in what you do. And if you believe in the product or service you provide, why shouldn't you have a sales force that's enthusiastic, effective and out there every day closing new deals. That's the reason why I invested in ISR Training," tells Banks.
According to Andrew, there are 3 secrets to success that he stumbled upon when he is building his businesses:
The trick to success is to get 70 percent of it right. You got to get the right things done well, and then you can screw up on the small things.
Don't go into anything you don't really understand.
Look at what the competitors are doing and work on how can you do it better. How can you do it better? Find the gap. And how can you find the gap? Ask the customers!
When asked about what are the things that he thinks people are not really aware of and end up making mistakes, Andrew said, "Well, I think one that surprised me is cash flow. It's the oxygen of corporate life. It's the oxygen of the business. So keep your cash flow monitored."
Andrew Banks mentioned that the key component of a happy, balanced CEO who keeps winning is emotional stability. Leading tech hub 'Tank Stream Labs', voted as #1 co-working space in Australia now has more than 400 companies in its network and has raised more than $300M. Banks said he is excited to join the hub to help Australian entrepreneurs road test their ideas and ensure "they have done the necessary homework for success as a startup venture."
Both business leaders, Simkin and Banks, plan to do more events in 2019 so stay tuned and follow them on social media to keep updated:
www.facebook.com/benjaminsimkin
www.facebook.com/andrewbanks.com.au
Source: BusinessNET
Share: